First, before Sunday Social begins, I need to take a moment.
And while I did live in the States for awhile, Canadian Remembrance Day is more important here than there. This is a day in which for the weeks before we have bought, not one, not two but maybe 5-8 poppies (because we loose them, wear them on different outfits, etcetra) and wear them over our hearts.
I don't have anyone in my family who has fought in the wars, or been directly involved with the military, but so many have, and though I'm not a huge supporter of military effort, I do realize the importance of Canadian Peace keeping troops and general reserves in making our country a great place to be, as well as other countries better places.
Anyways, don't forget to take your two minutes of silence when 11 am comes around to remember the hard work and dedication of the lives of the men and women who have served their country.
Now onto the Sunday Social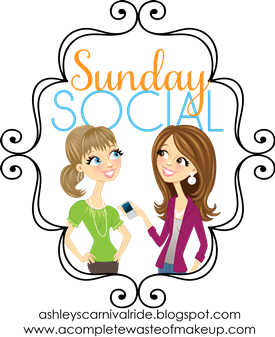 Canadian Thanksgiving has passed.
Now it's time for Christmas.
Once Remembrance Day is over, of course.
Favorite Thanksgiving Memory
Perhaps one of my fondest is from my time at Cottey College.
I can't help but smile and remember the fond moments of celebrating Canadian Thanksgiving with my American Friends. Introducing them to my favorite Canadian side dishes and sitting around the table in the cafeteria and saying what we are thankful for, and being thankful for my friends.
This picture isn't from Thanksgiving, but it is from that time of the year.
My other favorite memories is Thanksgiving with Emily.
Emily always buys an organic grain fed turkey and it's massive
It's now known as the misfits Thanksgiving.
It's always the best of times!
Favorite Thanksgiving Food
I once hated stuffing. I know love stuffing.
Especially my mom's.
And sweet potatoes with marshmallows.
What is a Thanksgiving Tradition you and your family have?
I don't know if we have any specific traditions aside from the usual.
Show us a favorite Thanksgiving picture(or 5) from years past
I don't know if I have any pictures....
What are you most looking forward to about this Thanksgiving?
It already passed =D